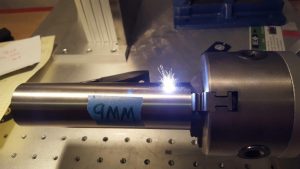 ENGRAVING DETAILS:
We perform engraving services for a variety of Firearm, Aerospace,  and Automotive Industries as well as most any items for the general public!
Most people are unaware that engraving on firearms is determined by the BATFE as a gunsmithing activity and  MUST be performed by a Federal Firearms License holder!!!
Our equipment includes Fiber-Laser, CO2 Laser, and CNC Rotary machines
For those who require NFA compliant manufacturer markings for their registered Machine Guns, Short-Barreled Rifles (SBR), or Any Other Weapons (AOW)
…We can help!
Most trophy & engraving shops are not familiar with the regulatory requirements & many do not have the necessary equipment
Be smart & have your markings performed by a licensed professional.
Check out our sample gallery of engraving projects!
Copyright Armor-Hyde Technologies, LLC -2019